Additional Resources
Two-Factor Authentication
To prevent you from being locked out of your UNM accounts, please make sure that the phone number you use for two-factor authentication is a number you have access to.

We encourage you to pay attention to all apps or websites that you currently use that request two-factor authentication. Update this information before you go abroad!

Our office may need to reach out to you with a wellness check, which will require access to your email. Other consequences may include the inability to review financial aid, register for courses, loss of access to the study abroad portal, and all other UNM websites.
Changing Your Number
You can either change the phone number on file to your new number or a family member/friend who can provide you the access code as needed.
The IT staff must hear your voice to do this!
You will be asked to provide your social security number to IT to verify your identity.
Authenticator App/Chrome Extension
If you aren't going to have access to your cell phone or texting, here are instructions for adding the authenticator cell app or Chrome extension.

The steps below are how to set up the authenticator app or the Chrome extension.

2. Click 'Add Method', from the drop-down select 'Authenticator App' and hit Add.

4. Follow the steps on the screen to complete the setup.

NOTE: If using the Chrome extension, you may need to select, "I want to use a different authenticator app"

*When you first add this method, it will still confirm your identity with your phone number.
LGBTQ+ Resources
INTRODUCTION
Here at UNM Study Abroad, we are dedicated to helping our LGBTQ+ students feel as safe as possible when they travel abroad, and to offer resources to them to aid in their knowledge of their destination country and the attitudes surrounding LGBTQ+ people wherever they are traveling. If you are an LGBTQ+ student looking to travel abroad, please read through the entirety of this section and take a look at some of the resources provided. Don't be afraid to reach out to us if you have questions or would like help when researching options for LGBTQ+ students abroad. Please also reach out to the UNM LGBTQ Resource Center for extra services and resources specific to UNM LGBTQ+ students.

 
BEING OUT ABROAD
Before going abroad, consider the safety risks you may be taking by being out while abroad. Be sure to research beforehand the laws and customs of your location to see if being out will put you in danger. If you do plan to be out, consider which circumstances will be safe to be out in, such as with your program, homestay, with friends, or if being out in public will be safe. Please see below for more resources to help you make an informed decision.

 
HOUSING CONSIDERATIONS
Consider the cultural expectations and norms you will be subjected to in different housing situations. If you will be staying with a local family or other students, consider if, when, and how you may disclose your identity to those living with you. If you are a trans student staying in on-campus housing, look into access to gender-neutral or private restrooms if needed. Also, look into how housing will accommodate you if dorms are separated by gender.

 
TRANS STUDENTS
If you are a trans student, consider the problems you may face if you identify with a gender different than that listed on your official documentation. These problems may arise when traveling, when securing accommodations, or when applying for a visa. Consider if it is important to you to have your passport and other documentation match your identity before you travel abroad. Consider simultaneously updating your legal documents if you wish to have an official name or sex change before you go. Information on how to apply for a change of sex marker on your passport can be found here.

 
RESOURCES
IES Abroad LGBTQ+ & Ally Resources- Includes advice & experiences from other students, general resources, gender identity resources, and ally resources.

The International Lesbian, Gay, Bisexual, Trans, and Intersex Association- The world federation of national and local organizations dedicated to achieving equal rights for lesbian, gay, bisexual, trans, and intersex (LGBTI) people across the globe.

Rainbow SIG- List of resources for LGBTQ+ students traveling abroad.

 
LAWS & U.S. STATE DEPARTMENT INFORMATION
ILGA Sexual Orientation Laws World Map 2019- Shows the status of protection/criminalization of LGBTQ+ people around the entire world.

UC Davis LGBTQIA Resource Center- Includes interactive map advising on LBTQ+ laws in certain countries, as well as advocacy centers and in-country resources.

LGBTI Travel Information from the U.S. Department of State- Useful information from the USDoS regarding preparing for travel and in-country travel as an LGBTQ+ traveler.

 
SCHOLARSHIPS
Rainbow Scholarship- a scholarship for LGBTQ+ students who aim to participate in high-quality, rigorous education abroad programs. To be considered, students must self-identify that they'd like to be considered for this scholarship on the Fund for Education Abroad application.

12 Study Abroad Scholarships for LBGT Students- GoAbroad.com's list of 12 scholarships specifically for LGBTQ+ students.

Gilman Scholarship- This is a scholarship program through the U.S. Department of State specifically for underrepresented students wanting to study abroad.
Mental and Emotional Wellbeing Abroad
Studying abroad is an exciting, life-changing experience - one accompanied by many growth opportunities. New and ever-changing situations require quick thinking, patience, and self-awareness. For many students, studying abroad is an opportunity to explore new passions and learn new cultures and languages. It is only natural that these new situations and circumstances bring on new or unfamiliar emotions.

Mental and emotional well-being abroad is just as important as physical well-being. Before you go, it's very important to speak with your Study Abroad Advisor about any pre-existing conditions you may have experienced before or are currently experiencing. This will help ensure that your study abroad site has the appropriate resources ready for you upon arrival. While away, try to follow these tips to keep on a good mental and emotional track:
Eat well, observe healthy sleep habits, and exercise -- it's easy to be so excited about your new situation that you can't sleep, or so in love with the new foods (I see you crepes) that you fall out of your normal eating and sleeping habits. Remind yourself that a balanced life is a happy life and that sleep and nutritious meals are really important! 
Don't forget about your family or friends back home (reach out and check in!) -- you also have your study abroad advisors at GEO who are happy to hear about your new adventures and see pictures, or talk about any hiccups and unexpected changes
Engage in the local community and culture -- making friends locally will not only help you adjust but will also give you an insider look at your new culture
Relax and go easy on yourself -- It's okay to "take a night off" and stay in every once in a while
Remember, this adventure is time-confined -- While it's easy to feel like situations are everlasting, your study abroad will not be. When the going is great, use this as a reminder to super enjoy it! And when the going is rough, use this as a reminder that this, too, will pass and you will get through it (with a great story for when you get home)!!
Know that you are not alone! -- In the "Resources" Tab below, you can find several resources to read, listen to, watch, or reach out to!  
If your new situation starts to feel too overwhelming, reach out to your study abroad advisor, who can help you track down the appropriate resource and connect you with locals who can help. 

ResourcesCherryStudy Abroad Sites With Excellent ResourcesCherry

 

Other Students' Success StoriesCherryTherapy Assisted Online (TAO)Cherry

This tool is used to meet our Lobos skill development and educational needs in well-being and behavioral health. It can be used to provide self-help on issues like mindfulness, communication, problem-solving, and much more! Interested in building resilience within yourself? Need a little stress management guidance? Then look no further, Lobos. TAO is here to help! 

PLEASE CLICK THE LINK BELOW TO GET STARTED: 
Preparing for Cultural Differences
Discussing Politics Abroad
The Elephant in the Room: Discussing Politics Abroad
Any time we travel, we become ambassadors or representatives for the places we come from. Some have reached out to us for support in this new role, so here are some ideas to help:
Stay informed on current events from a variety of sources. The best response to questions about current political events is an informed and respectful response.  
Be ready to answer questions others may have about current events, and use the opportunities to learn more about current events happening in your host countries!
Be respectful and willing to have open dialogue, especially when points of view differ from your own.
Remember that study abroad is not only an opportunity to learn about other cultures and countries but also to learn more about your own.
Be curious and ask questions! Does your host country have a bipartisan government? Does it have a president? What does their government look like? What is their economic system? 
Dr. William Stanley, director of the Latin American Iberian Institute, and a professor of political science here at UNM has offered some thoughts on the matter (2016):

These are interesting times to be abroad. Our new US president brings an unprecedented style of communicating and has introduced or proposed major changes in US foreign policy. There will be heightened international interest in what the US will do next, and increased criticism from some sectors and countries. You may well find that people you meet in your host country will look to you for information and answers about where things are headed. While I hope you will keep yourself well-informed by reading professionally-researched US and international newspapers available online, it is also perfectly OK to admit that you don't know the answers to questions posed to you. Much of what has gone on during the first weeks of the new administration is outside of well-established norms for US presidents and their representatives. Yet we also see US political and legal institutions generally functioning as intended. I have found in my years of living and traveling abroad that even during periods when US policies were unpopular in countries I was visiting, people I met generally distinguished between my government and me as an individual. Most people gave me the benefit of the doubt and treated me with courtesy and hospitality. That said, in some countries and regions it may be prudent to put some additional thought into where you go or how overtly you identify yourself as being from the US. Bear in mind also that there are unpleasant, unreasonable, or hostile individuals in every culture: if you encounter such a person, you do not need to internalize their judgments about you or of your country. This is an important time to be abroad and to engage in open, friendly, respectful conversations with people who are themselves open to sincere and respectful dialog.

As Dr. Stanley mentions, it is perfectly OK to admit you don't know the answer to every question! 

As always, your support network here at UNM is always happy to help you as new questions or situations arise. Feel free to reach out as necessary!
What to Pack
Before packing your bag, consider factors such as the climate in the host country, the season you are traveling, your planned activities, local norms of dress, and access to laundry, shopping, etc. These conditions can help you determine what you need to pack for your journey!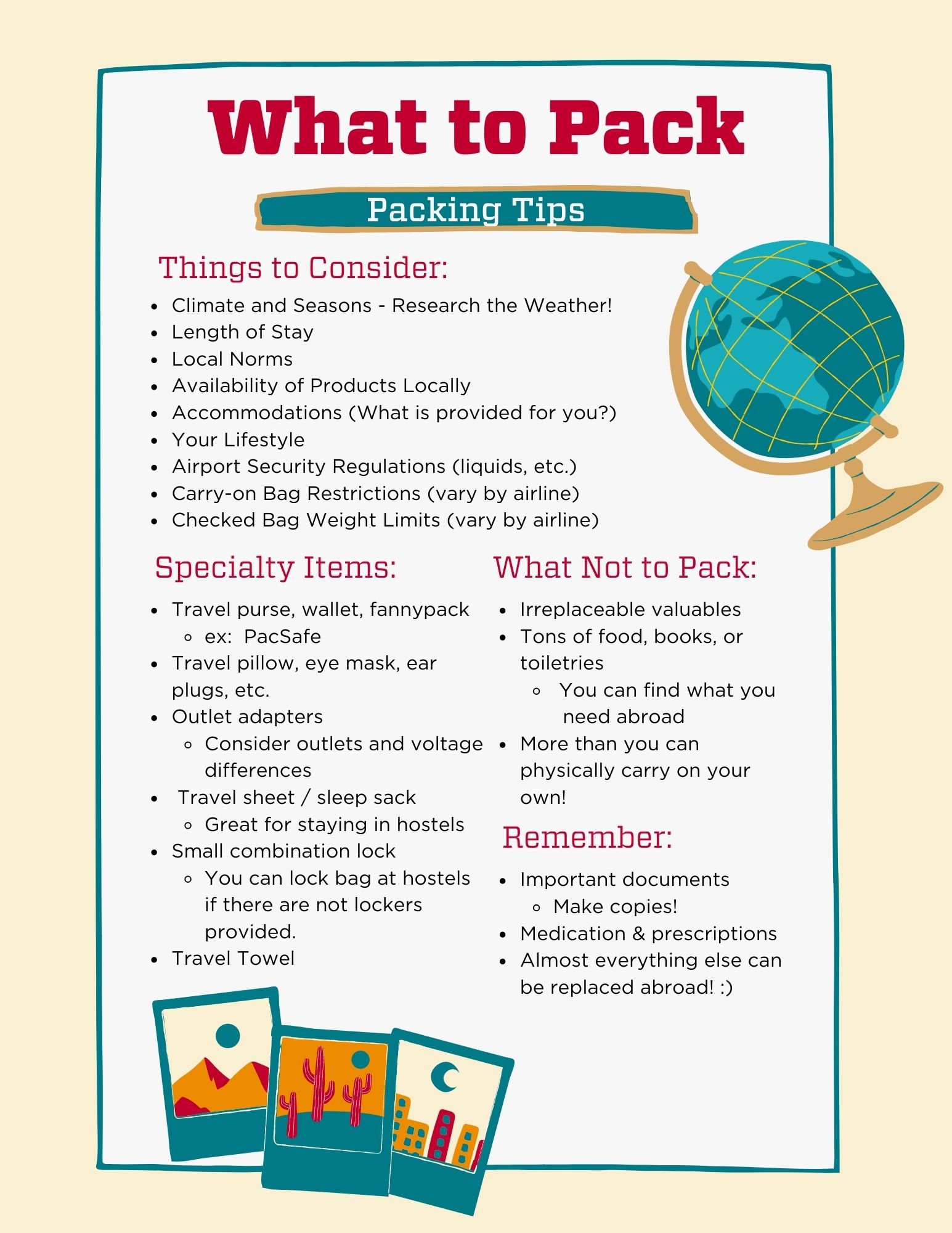 Study Abroad Resources through UNM Libraries
Want to know what the culture is like wherever you're going? Wish you had an idea about what form of government your study abroad destination observes Thankfully, UNM Librarian Liz Cooper has gathered pertinent culture guides and study abroad resources here. Please refer to those as necessary during the planning and pre-departure phases of your Study Abroad adventure!

 

CONTACT INFORMATION
Liz Cooper may be happy to help you find country-specific information at University Libraries as available if you contact her directly:
cooperliz@unm.edu
505-277-1419
Zimmerman Library, Basement (B34)