Welcome to Education Abroad
The University of New Mexico strongly endorses the nationally recognized need to promote global awareness of and sensitivity to multicultural issues in today's interdependent world. We invite you to browse this website for information regarding education abroad as well as available study, research, and internship programs. Once you've read through the information, we invite you to get in contact with us. Thank you for visiting today.

If you are interested in the National Student Exchange program (NSE) for domestic programs, please visit https://nse.unm.edu/



Announcements
Fall 2023 Workshops - 8/3/2023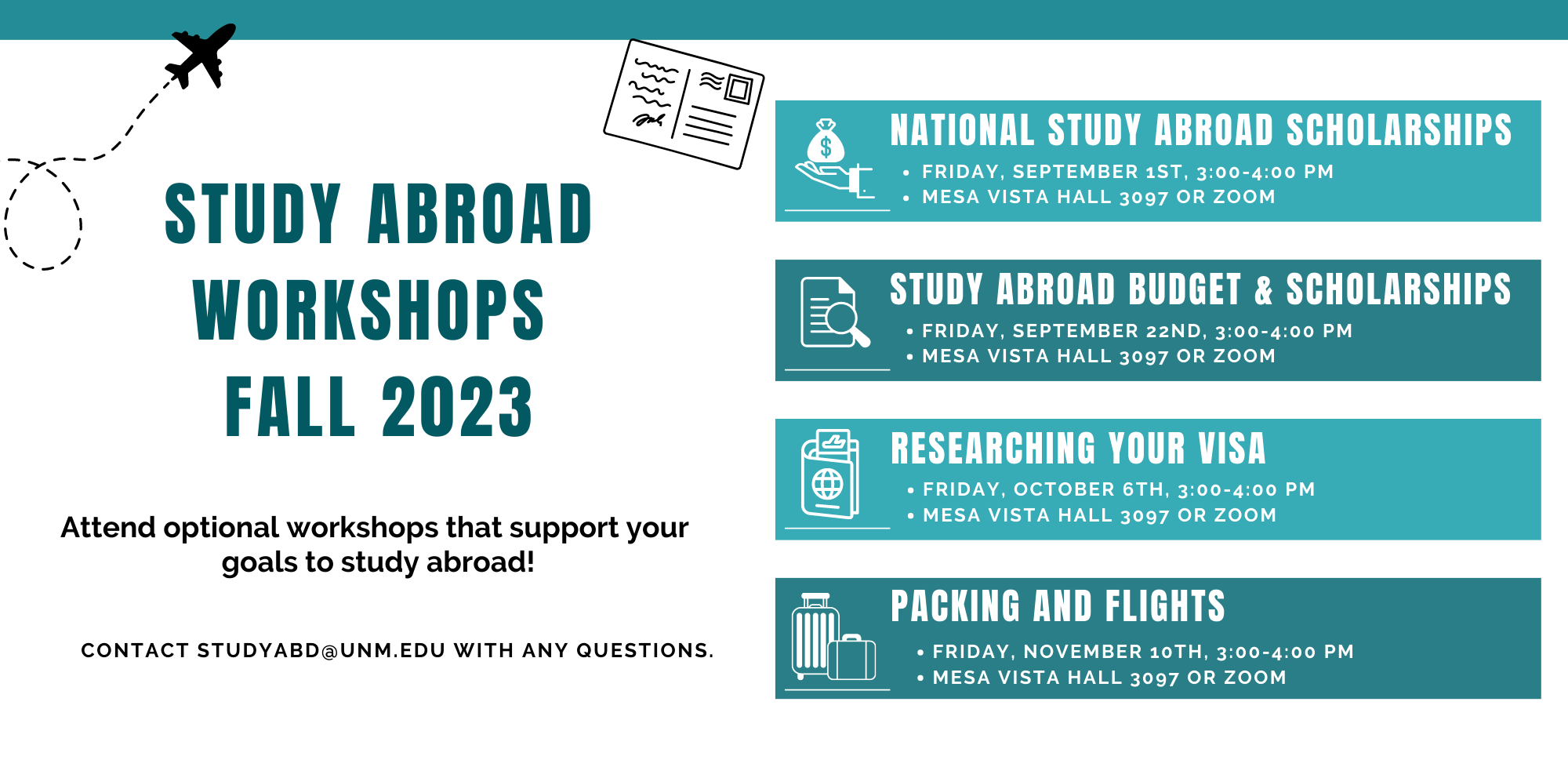 Website Transition - 4/28/23
We are continuing to work on the transition of all our program information from our old website to this one. We appreciate your patience and understanding at this time. You can refer to a full list of our institutional partners here. If an exchange partner is not yet listed on our website and you wish to learn more about them, please email studyabd@unm.edu. 
Appointments are Available In-Person and Virtually
Students: If you are interested in studying abroad, please make an appointment with a study abroad advisor via LoboAchieve. Or visit us for Walk-in hours Tuesday and Thursday 1:30 PM - 3:00 PM at the Global Education Office.
Faculty/Staff: If you are interested in leading a faculty-led or group study abroad program, please contact Sara Gutierrez, Faculty-Led International Program Coordinator or flip@unm.edu.
If you are interested in a developing a formal agreement with an overseas institution, please contact Todd Karr, Director of Education Abroad.
If you have additional questions, please contact the Education Abroad Office directly. You may also contact the Global Education Office at 505-277-4032 or via GEO's Live Chat.